The Official Ramona Morrow Books Website
Ramona Morrow | Canadian Children's Book Author and Blogger
Books By Ramona
Thank you for visiting Ramona Morrow Books to learn more about Books by Ramona. This page is here for those visitors needing more information about books written by Ramona Morrow, an up-and-coming Canadian children's book author. Ramona's first book, Jamie's Pet, a children's book is her pride and joy and greatest accomplishment, so far, that has started her on this writing path she so proudly enjoys. Jamie's Pet has already received two children's book awards with many more on the way.
Click on the Button!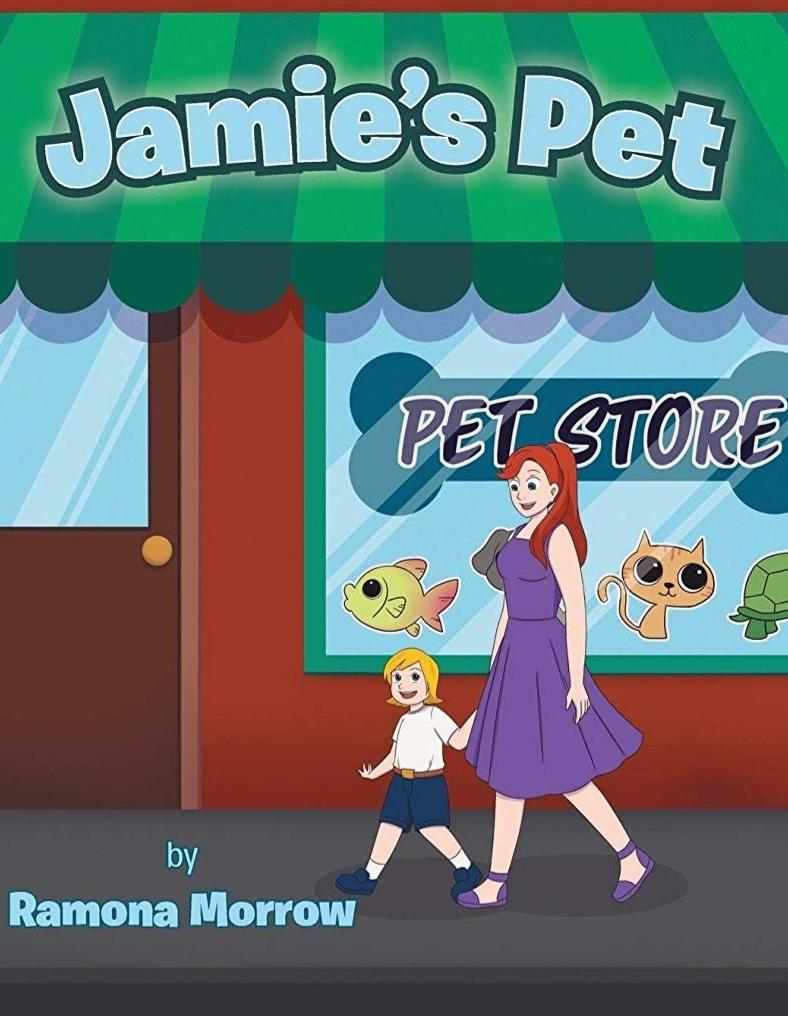 Jamie's Pet, a fictional children's book, is about a little boy who wants a pet. He is not sure what kind of pet to get. Jamie and his mother make a trip to the pet store. Jamie discovers all types of pets available at the pet store. Jamie finds that he has to make a tough decision about which pet to get. Throughout the pet store as Jamie and his mother walk, they are looking at all sorts of different pets. Once Jamie holds a pet, he knows and feels it instantly this is the kind of animal he wants as his pet. Jamie finds his perfect pet, his perfect friend.
Now Available At Amazon!
Click on the Button!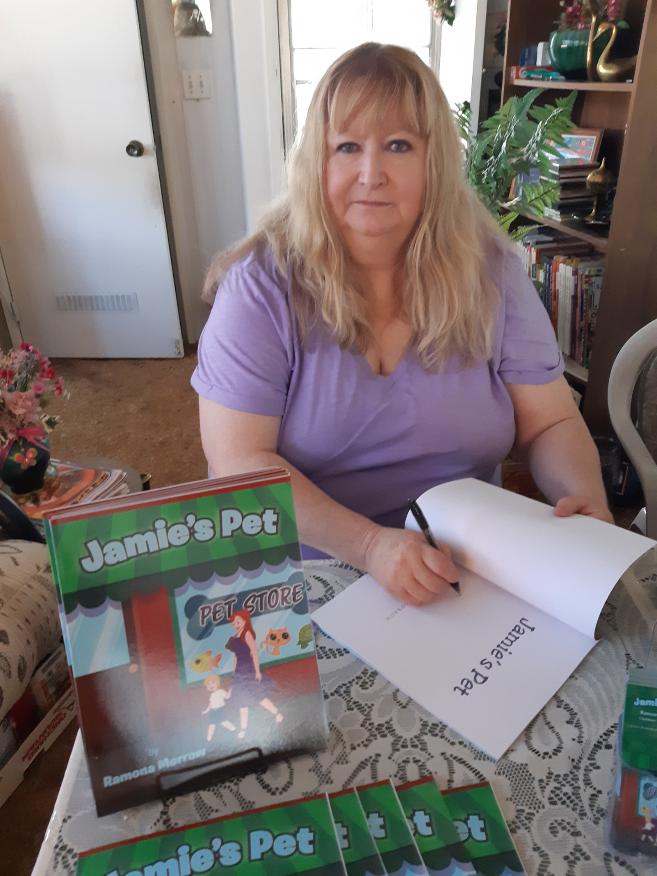 Jamie's Pet Children's Book Signing in Oliver, British Columbia, Canada June 2020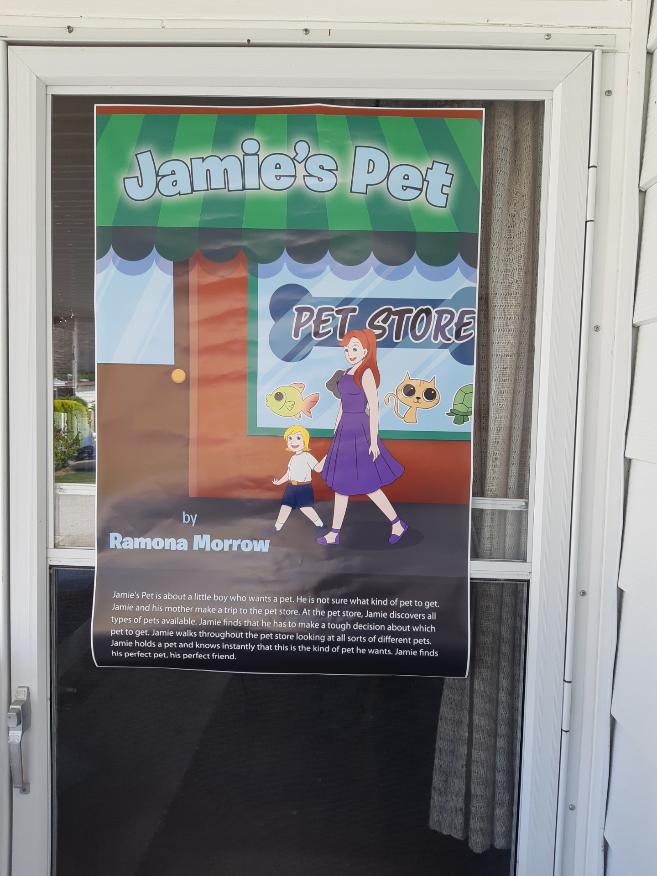 Jamie's Pet Children's Book Poster hanging on door at parents home. Ramona's parents hosted a book signing event for their daughter. Everyone in the neighborhood came to get their copy of Jamie's Pet autographed by the author. June 2020
Updated Information
For those who are wondering what Ramona is doing now, well, she is busy writing her second children's book, updating her website, and writing her blog. Check back to see when the book has a release date.
Personal Note From Ramona
To everyone who has purchased a copy or who plans on purchasing a copy of Jamie's Pet children's book online or from your favorite brick and mortar book store, either in paperback, eBook, or an audiobook. I would like to start by saying, "Thank You so much for your support and putting your trust in me with your children's reading material." I hope you and your child enjoy reading Jamie's Pet as much as I did in writing it. I am very proud of my first children's book. A second children's book is being written with just as much enthusiasm behind it. Please feel free to leave a customer review on the website where you purchased your copy of the book. "Thank You again and Happy Reading Everyone!"
Readers will find that Jamie's Pet is a great bedtime story for kids to read in the quietness of their bedroom with their parents admiring how far their reading skills have grown. On this page, you will find Jamie's Pet available in audiobook, eBook, and paperback book. Within each category, there is a list of businesses where you can purchase Jamie's Pet children's book. REMEMBER: The price varies with each business so shop around.
"Ramona Morrow's skill for creating actionable phrases in Jamie's Pet is similar in style and content to Cynthia Rylant's, Henry and Mudge books," remarked Mark Heisey from The US Review of Books. "She presents, in a language and with illustrations most appealing to children, the many factors that must be looked at when deciding on a household pet. To a child, it's about that 'perfect pet, perfect friend' and to a grown-up, it's about guiding the child according to what the child can manage in terms of care, love, and affection," quoted Maple Leaf Publishing. The children's short storybook illustrations are strong bold colours that will surely capture your child's eye.
Unsurprisingly, the book is inspired from the author's real, short-lived-pet-drama. In her words, "the goal was to get a pet that was good for Jamie, and a great fit for the family." Children will surely love to pick up her book and read it for hours. This pet store children's book has good moral values and ideas that impact how children see the world.
Looking for a really good children's book? Jamie's Pet children's book is an entertaining short storybook. A family-oriented storybook for babies, toddlers, and preteens. Everyone who reads this charming children's tale will love this pet store book. Children will love reading about each of the different animals Jamie and his mother discover in the pet store. The kids' short story is in a language that children can understand. How often does that happen? Jamie's Pet will quickly become a popular children's book during your child's storytime hour or as one of their favourite night time bedtime stories. Your child will fall in love with the animals within the pages of this delightful children's book. When searching online Jamie's Pet is sometimes found under the category; pet books for kids or children's pet store books.
Jamie's Pet children's book has become a favourite illustrated picture book among school teachers, librarians, and daycare providers. A kindergarten teacher replied, "we're loving these bold colours used in the illustrations with big writing on each page in the book. Great morals in this short story for kids to read." Jamie's mother provides a small description about each of the animals that Jamie and she came across. Jamie's mother explains to him the responsibility of caring for a pet. And another kindergarten teacher replied., "This book has a valuable lesson given to young children. The book also helps first-time child pet owners about caring for a pet, one that parents can appreciate."
Let's make Jamie's Pet children's book become one of the best-selling children's books online. Together we can put this gem of a children's book on The New York Times Best Seller List. Making the list is one of Ramona's future goals for 2020. Jamie's Pet is now in the hands of two celebrities being read by their adorable children.
Jamie's Pet children's book is available as a trade paperback book, audiobook download for kids online, or as a picture eBook for kids also found online. Each version depends if you are at home and want your child to read the children's book as an old-fashioned paperback book, or on the ever-popular iPad, tablet, laptop, or a desktop computer. Your other choice is as an audible children's storybook where your child is wearing headphones. This way you won't get sick of the story hearing it over and over again or your child wants you to keep reading the short storybook over and over again. For grandparents, this is the perfect bedtime story for kids to read as they wind down for the evening.
Jamie's Pet winner of the 2019 Fall Pinnacle Book Achievement Award in the Best Book Category of Children's Interest came as a complete surprise to Ramona. The second book award, Canada Book Award 2020 just floored Ramona. Best children's picture book recommended by age group one-to-twelve-years-old for kids to read online. Jamie's Pet, the best kids book is available as children's audiobook, picture eBook, or paperback book found below. Check out Jamie's Pet official children's picture book trailer for kindergarten and elementary school children.
Children's eBooks Online - Jamie's Pet children's eBook found online where ALL paperbacks are being sold in your country including Google Play and Apple iTunes. Reading eBooks online is quickly growing in popularity. You will find stories for kids, stories for adults, and every kind of eBook story in between; whatever you feel like reading at the time. Online books reading can be done whatever you want to read. Just take your reading device with you. When kids discover children's picture books online that looks interesting to them and have eye-catching illustrations, they want to download the book immediately.
Buy Your Copy of Jamie's Pet eBook Here
Click on the Button!
Audible Children's Storybook Listeners - Jamie's Pet children's audiobook for kids found online is finally here. The children's audiobook is narrated by Jessica Duncan who has a professional upbeat and friendly tone to her voice. Findaway Voices are working very hard to get Jamie's Pet into lots of locations including the ones listed below. Great moral short story for kids online! Audiobooks for kids online are best enjoyed in the comfort of your child's own home where they can relax and have a good time. Kids' books online libraries have a huge assortment of children's literature; every kind of book imaginable at your fingertips. Your child should never be bored again. Online books for children to buy can be found below.
Buy Your Copy of Jamie's Pet Audiobook Here
Click on the Button!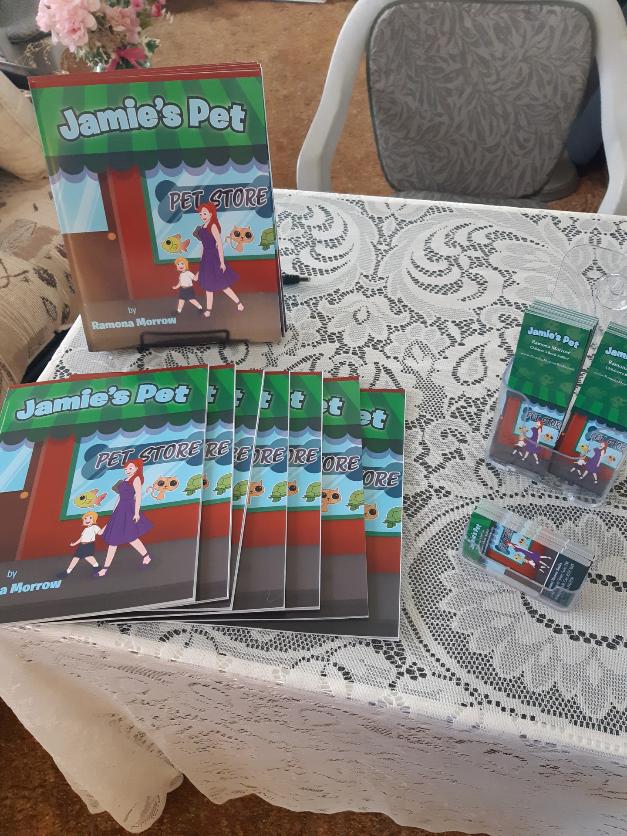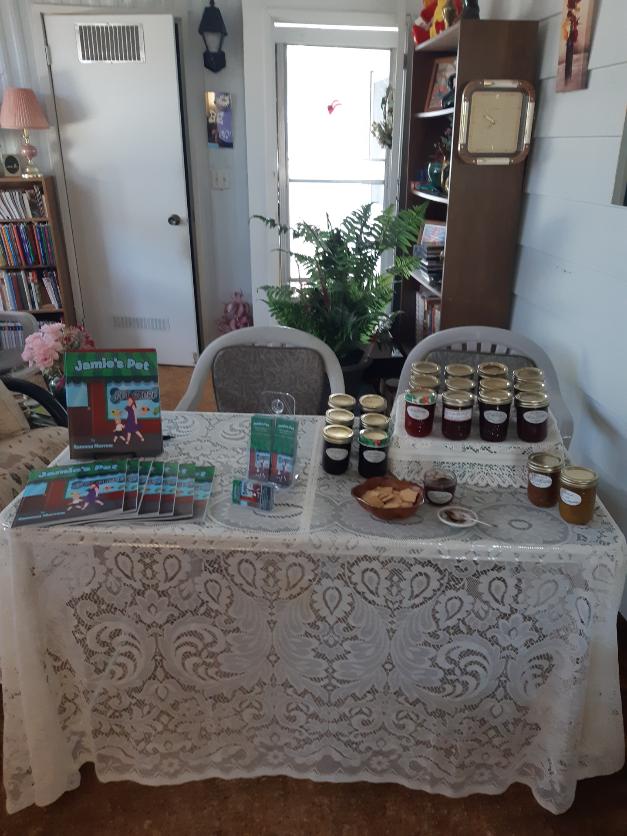 Beautifully Illustrated Storybook - Jamie's Pet, sure to be a cherished family favourite as an old-fashioned children's paperback book. Reading kids' bedtime stories is a fantastic way for you to bond with your child. Take five or ten minutes out of your busy schedule to show your child how much you love them. Children's bedtime stories are not only enjoyed by young children; older children and adults enjoy them too! Now is the time to brush up on your storytelling skills. Short moral stories for young kids is the perfect bedtime story. For Jamie's Pet trade paperback children's book, purchase your copy here.
Buy Your Copy of Jamie's Pet Paperback Book Here
Click on the Button!
© Copyright 2019 - 2020 Ramona Morrow Books, All Rights Reserved