The Official Ramona Morrow Books Website!
Ramona Morrow | Canadian Children's Book Author and Blogger

Welcome!
I hope you enjoy this website. Ramona Morrow Books is where you will find everything you need to know about Jamie's Pet. Kids don't forget Jamie's Pet children's book is also available as an audiobook, eBook, and paperback book. More information about Jamie's Pet can be found on the following pages:
Click on the Button!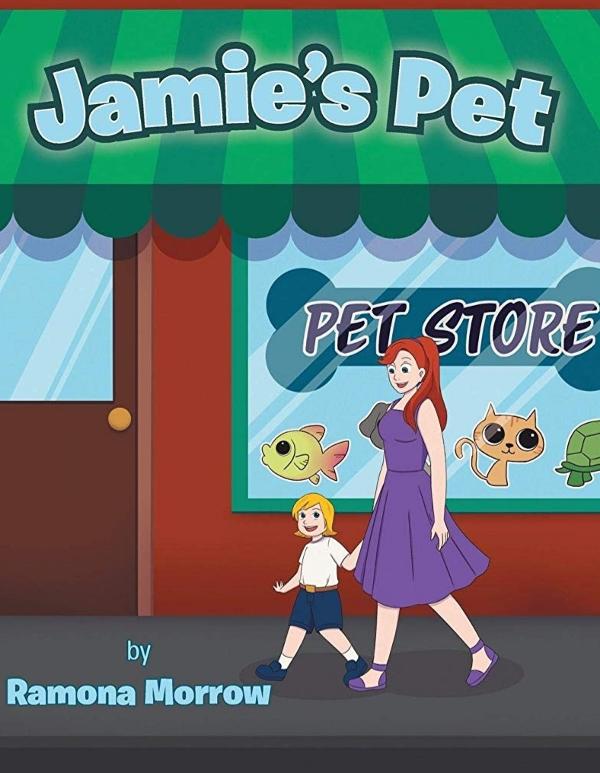 Jamie's Pet children's book, about a normal five-year-old little boy who would like a pet. Jamie does not know what kind of pet he wants. Jamie and his Mother venture down to the nearest pet store in their neighbourhood. When they arrived at the pet store, Jamie notices that there are tons of different animals available. Jamie realizes this is going to be a real tough decision. Jamie walks around the pet store looking or touching all the different animals to figure out which animal he likes. Jamie holds a small animal and falls in love. Jamie finds his perfect pet, his perfect friend.
Purchase Jamie's Pet Here
Click on the Button!
Personal Note from Ramona
I would like to personally thank my visitors who have bought a copy or who plan on buying a copy of Jamie's Pet children's book, eBook, or audiobook from the online businesses I have listed on my website or from your favorite brick and mortar book store.
Thank you to my visitors, customers, and fans. Your complete and total support means so much to me. And for putting your faith and trust in me with your kid's reading material. I hope you and your child or children will really enjoy reading Jamie's Pet. I really took pleasure in writing my first book, "I am elated with the end result of my first children's book."
My second children's book is now being written with lots of enthusiasm behind it. Please leave a customer review on the website from where you purchased your copy of the book. "Thank you again and Happy Reading Everyone!"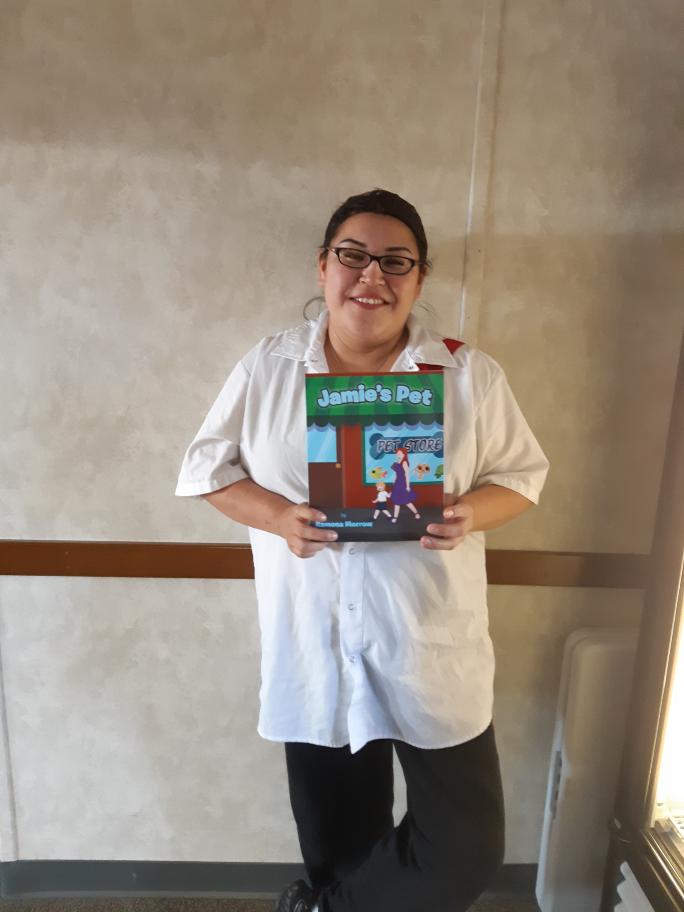 Jamie's Pet Children's Book Customer Review - 'What a sweet book. Perfect gift for kids who want a pet but are not sure what type of pet to get. Definitely will help with their indecision. I bought this book for my nephew; Rylan and I can't wait to give it to him. I know he will enjoy this children's book very much.' Olivia O. – Gillam, MB, Canada 2020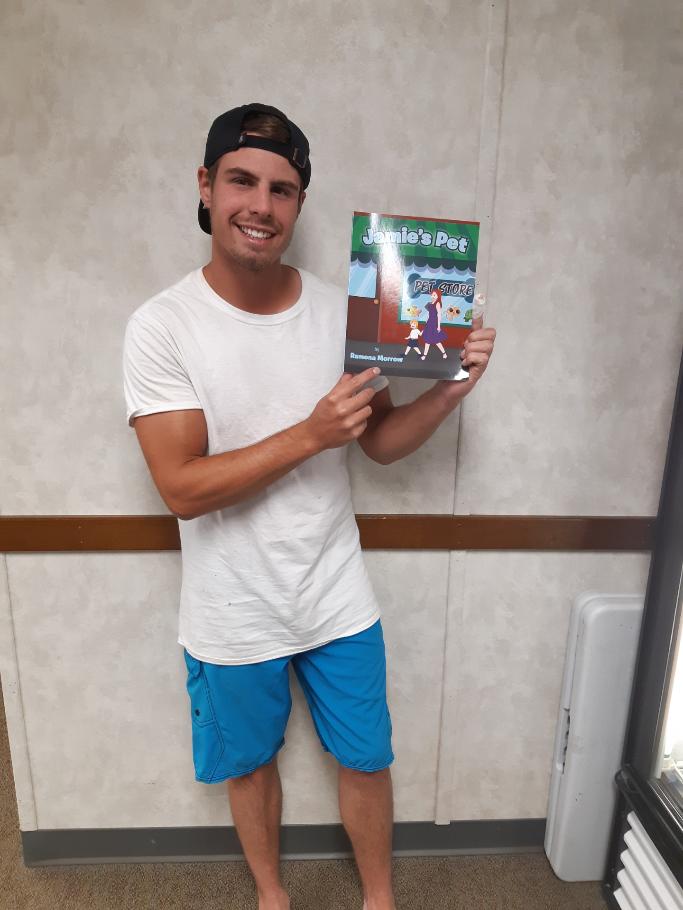 Jamie's Pet Children's Book Customer Review - 'I bought Jamie's Pet for my little brother, Kane so I can read the book to him as a bedtime story. Great book. Large words on every page and pretty illustrations with great bold colors. I highly recommend this book.' Austin G. – Winnipeg, MB, Canada 2020
Listen to Jamie's Pet Children's Audiobook Free Sample
Jamie's Pet Children's Audiobook
Narrated by Jessica Duncan
You can hear a FREE sample of Jamie's Pet children's short storybook narrated by Jessica Duncan online or down below. Listen to a one-minute FREE sample of Jamie's Pet children's audiobook before you purchase the audiobook online. If you like the sample children's story you can buy the full audiobook at any of the online audible stores listed above. Audiobooks make great kids bedtime stories. You will find your child happily listening to the bedtime story and before they know it your child just drifts asleep. Enjoy!
JAIMIES_PET_1_Minute_ (1).mp3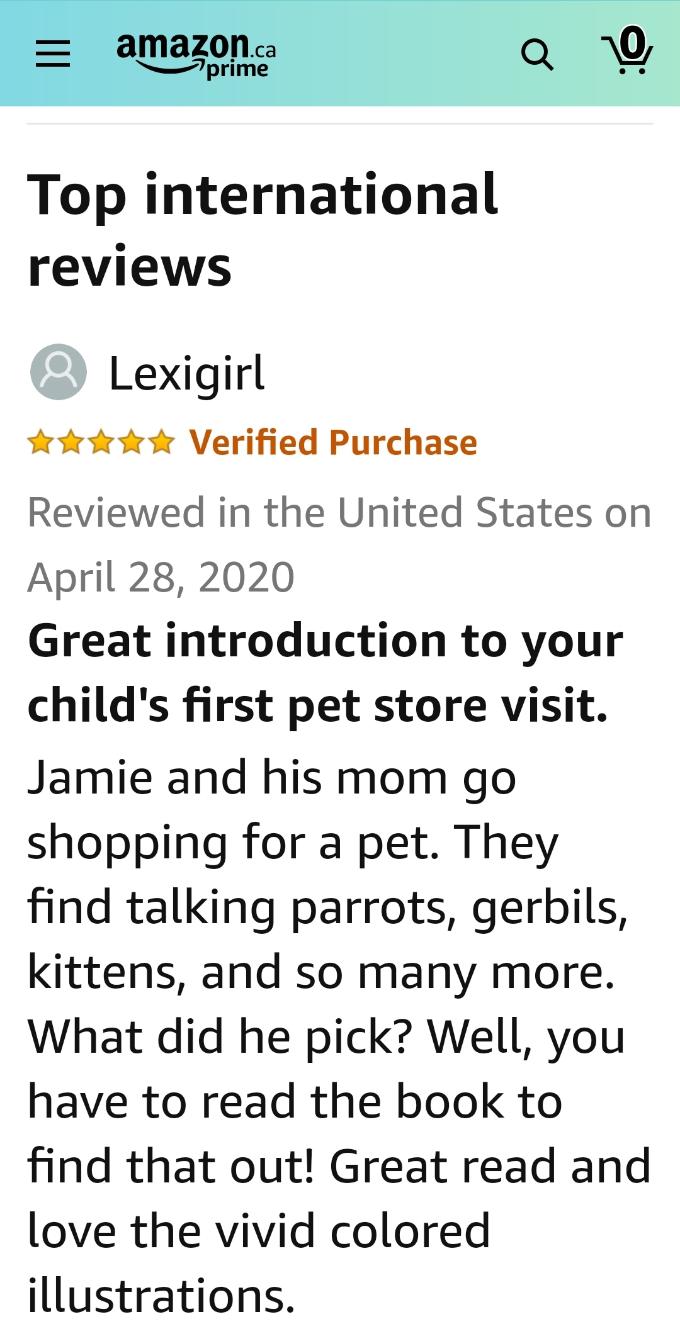 Amazon Customer Book Review for Jamie's Pet Children's Book - "Great introduction to your child's first pet store visit. Jamie's and his mom go shopping for a pet. They find talking parrots, gerbils, kittens, and so many more. What did he pick? Well, you have to read the book to find that out! Great read and love the vivid colored illustrations." Lexigirl April 28, 2020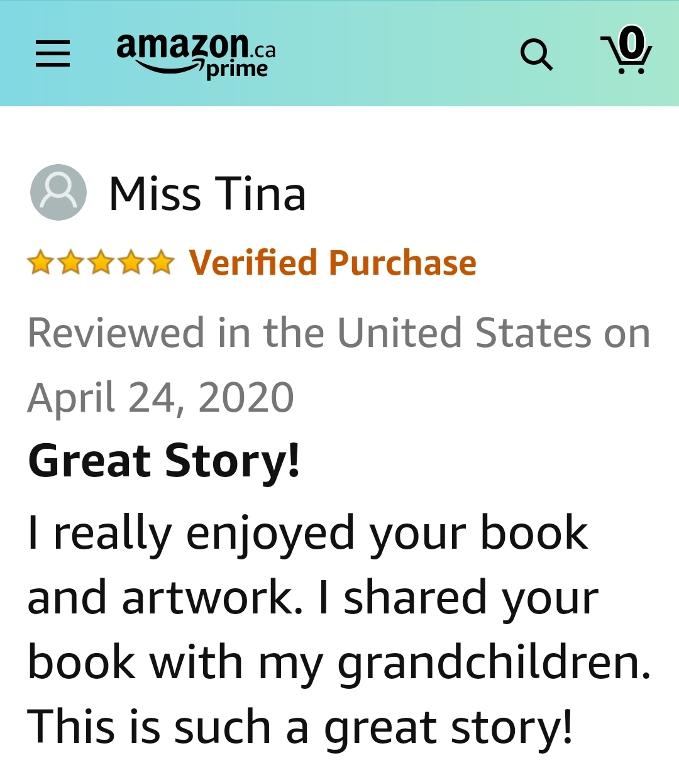 Amazon Customer Book Review for Jamie's Pet Children's Book - "Great Story! I really enjoyed you book and artwork. I shared your book with my grandchildren. This is such a great story!" Miss Tina April 24, 2020
Your Customer Review can go here when you purchase Jamie's Pet Children's Book and leave a Customer Review on Amazon or wherever you purchase your book. Just let Ramona know by email or use the contact form below.
Jamie's Pet is an original children's picture book found online. An educational, entertaining, and fun to read children's book. Jamie's Pet is considered one of the best-illustrated children's storybooks sold online. You will find that Jamie's Pet is kid-friendly and the content is easy to read within the pages of this beautifully illustrated storybook. The children's book has an elegant moral innocence laid within the pages of this story for kids of all ages. Parents like the book too! Jamie's Pet is a superb kids picture book your children will ask to read over and over again.
Jamie's Pet children's book was specifically written for babies, toddlers, and children up to the age of twelve-years-old. Reading to your children when they are a baby prepares them for preschool and by the time, they are a preteen your child already enjoys reading. Reading helps increase your child's vocabulary; therefore, they will enjoy school and learning becomes much easier and pleasurable for them. Jamie's Pet has some big words like "commented," "aquarium," and "cowabunga" within the storyline but that is okay, young kids can learn big words too!
Jamie's Pet children's book is a lovely short story for families to include during your family night activities. Friends, neighbours, uncles, aunts, cousins, and grandparents can also enjoy reading Jamie's Pet as a nice children's short storybook or include as a sweet children's bedtime story. Show your child that you enjoy reading or better yet, give yourself the night off and let your child read to you. Listen how your child sounds when they are reading. Encourage your child that children's literature should be incorporated into their daily routine as a fun learning activity as part of their young lives. Children's bedtime stories read at bedtime is an excellent place and time for your child to start reading. When you read to your child, the sound of your voice relaxes your child making it easier for them to fall asleep.
Invest in a child's future, give them a book. Look no further! Jamie's Pet children's book will make the perfect book to give a child as a reading gift. You can gift this lovely children's book to your child for their birthday, Christmas, or any other special occasion they may have. Start your child's reading habits early by gifting them this fun and interesting children's book to read as a paperback book or eBook. Jamie's Pet is also available for your child to listen as an audible storybook. A good book is worth its value and will last a long time in your child's library or maybe kept forever. Ramona still has her first book that she read as a child, "Curious George."
This precious children's book is perfect for babysitters, daycare centers, preschools, homeschools, teachers, elementary schools, libraries, book stores, and pet stores or any other adult who cares for a child. Jamie's Pet children's book is considered a cute children's book for kids. This kid's book is great for storytelling time and will keep children busy for hours teaching them about each animal that Jamie encounters in the pet store. Just remember, this wonderful children's book could turn your child into a book lover, an animal lover, or eventually a veterinarian or forest ranger. Never too early to prepare children for what they want to be when they grow up.
Jamie's Pet children's book is a great English story for kids. This children's book is a good addition to use as a teaching tool designed to meet the needs of an Adult Literacy Reading Program. Jamie's Pet an online kids' book that is beneficial to help immigrant children and adults needing to learn how to read English and how to write English. Doesn't matter where you are in the world you can read English-printed books online and will be able to find thousands of English-printed children's books for kids and adults online too! With that being said, Jamie's Pet children's book is now accessible to you and your child in audiobook, eBook, and paperback book formats in whichever version you prefer as your teaching tool. You can now read on the go!
Jamie's Pet won it's first children's book award, Fall 2019 Pinnacle Book Achievement Award for the Best Book in the Category of Children's Interest. The second book award came in August 2020 | Canada Book Awards Winner. Ramona is very proud and honored to receive the award for her children's book. Ramona jokingly replies, "It's validation that at least someone like the book." Best children's book by age one-twelve-years-old to read online as an audiobook, eBook, or paperback book.
Kids Review Page Coming Soon:
For kids 19-years-old and younger. Your comments about Jamie's Pet children's book are welcomed. When enough comments are provided a special page will be dedicated to the kids' comments. For now, use the Comment Form below.
Email your picture holding a copy of Jamie's Pet children's book to JamiesPet.Ramona@gmail.com with the following information: your first and last name (last name initial will be used only), age, city, province/state, and country with the comment (good or bad) you would like to say about the book for the Kids' Review Page. I will email you, let you know your comment has been posted, and where to find your comment.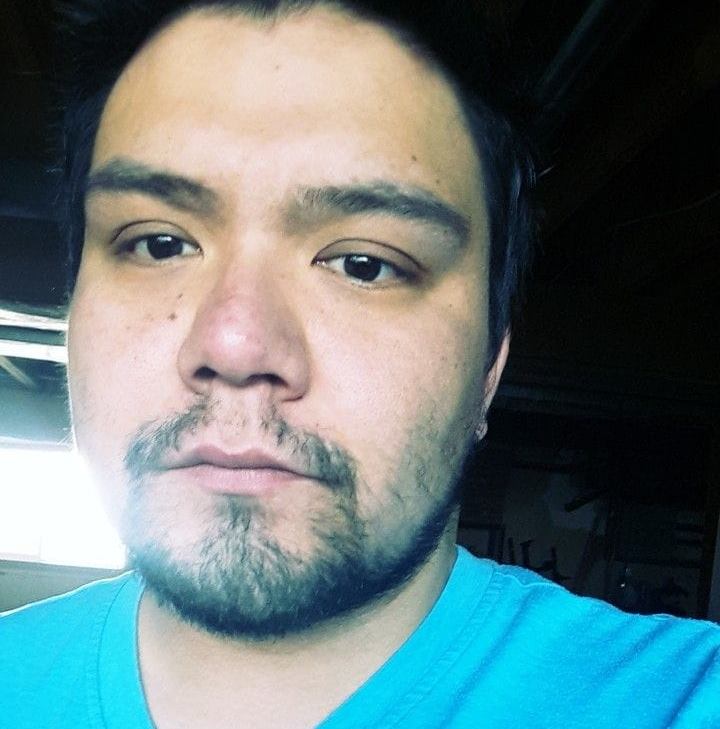 'This is such a wonderful book to read as a bedtime story. The information about the animals in the pet store is very thorough and in such a child-friendly way! I just love how Jamie and his mother explore the pet store. My kids really enjoy this book.'
Harley N.
Gillam, MB, Canada 2019
'This is a good book for little ones. It has bright illustrations and the artwork is amazing. Lots of different animals, cute little story. Moral of the story has a good message to it. Jamie learns he has to take care of his pet. My grandson L-O-V-E-S this book. Such a great story. It's was a great purchase.'
Don M.
Winnipeg, MB, Canada 2019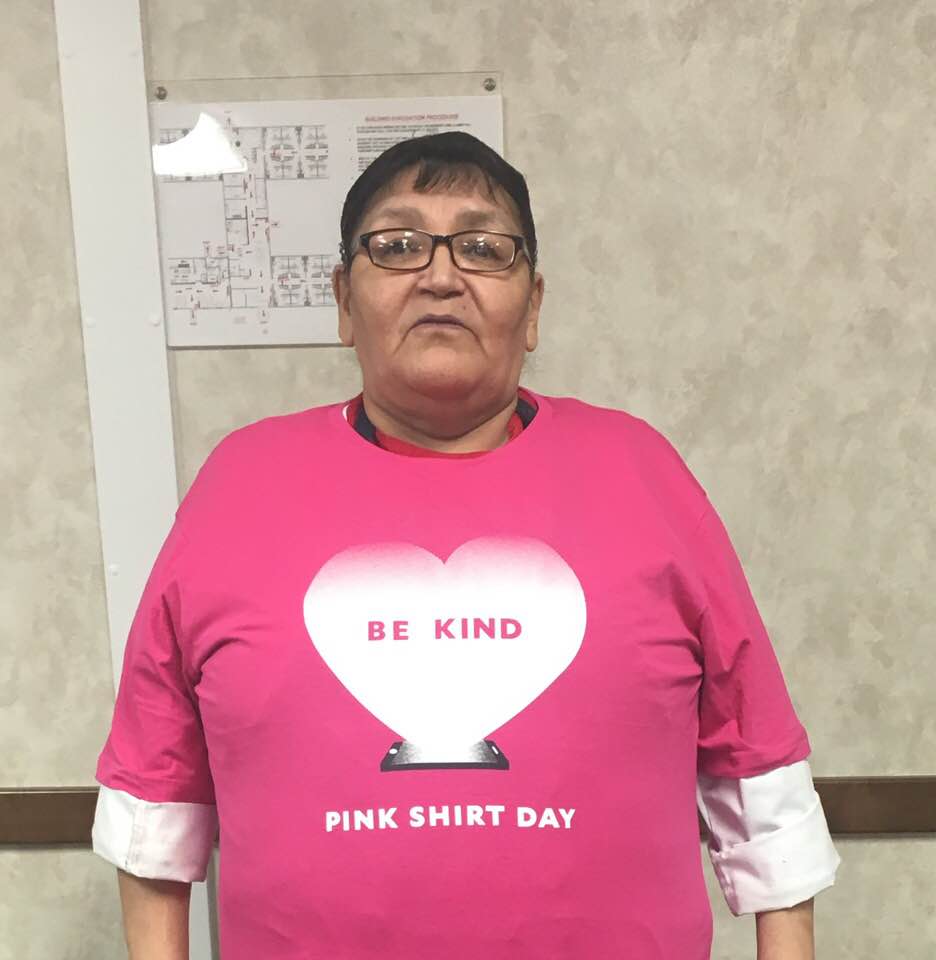 'I read it all and it's SO adorable that I wouldn't mind keeping it for myself. I really, really, really liked the book. Jamie's Pet was funny, educational, and is filled with tons of action words. Very descriptive with simple words for kids to learn about the animals in a pet store. Love the color of the book. Deep bold colors. My boys enjoyed the book and can't put it down. It is one of their favorite books.'
Mary C.
Wabowden, MB, Canada 2019
Ask Me A Question About My Book
Jamie's Pet
Email Ramona at:
JamiesPet.Ramona@gmail.com
Snail mail is always welcomed.
Write a letter and send it:
23-845 Dakota Street, Suite 358
Winnipeg, Manitoba, Canada, R2M 5M3
Leave your name and email address here if you would like to be added to Ramona's future newsletter, new books, giveaways, goodies, etc.
© Copyright 2019 - 2020 Ramona Morrow Books, All Rights Reserved