The Official Ramona Morrow Books Website
Ramona Morrow | Canadian Children's Book Author and Blogger
Jamie's Pet
Children's Paperback Book For Kids
Welcome to Ramona Morrow Books to learn more about Jamie's Pet Children's Paperback Book for Kids. This page is here for you to find all the information you need about Jamie's Pet Children's Paperback Book. This children's paperback book was recognized as one of the best children's books in the category of children's interest. During children's book week celebrate by reading this entertaining children's book. Your favorite Canadian children's book. Jamie's Pet will soon become your kids new favorite children's book. This children's pet shop book is a wonderful and entertaining children's picture book.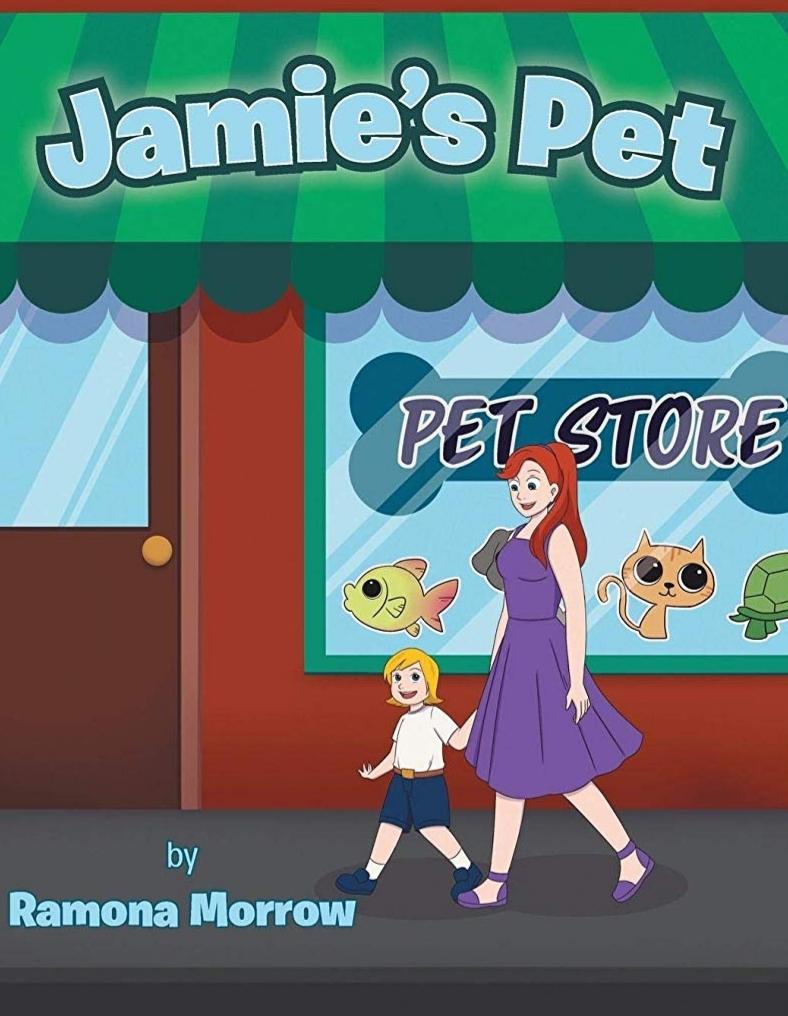 Jamie's Pet children's book is about a typical little boy who would like a pet. Jamie and his mother stroll down to the nearest pet store. Once Jamie and his mother are in the pet store. Jamie sees lots of different animals available for pets. Jamie has a tough choice ahead of him. Jamie cradles an animal and quickly makes up his mind that this is the animal he would like to get as a pet. Jamie finds his perfect pet, his perfect friend. A fun children's picture book. Perfect as a children's dog book reading gift. Kids love picture books about animals.
Available ON Amazon!
Click on the Button!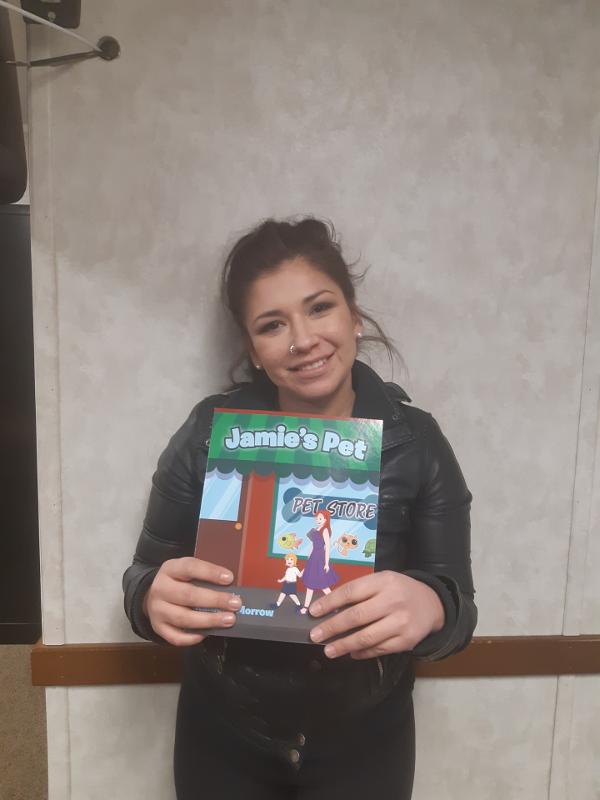 Jamie's Pet Children's Book Customer Review - 'Jamie's Pet is a great way to show kids what a pet store looks like without going into one. Ramona describes the animals perfectly. Can't wait to read this children's book to my daughter.' Cheyanne M. - Brandon, MB, Canada 2020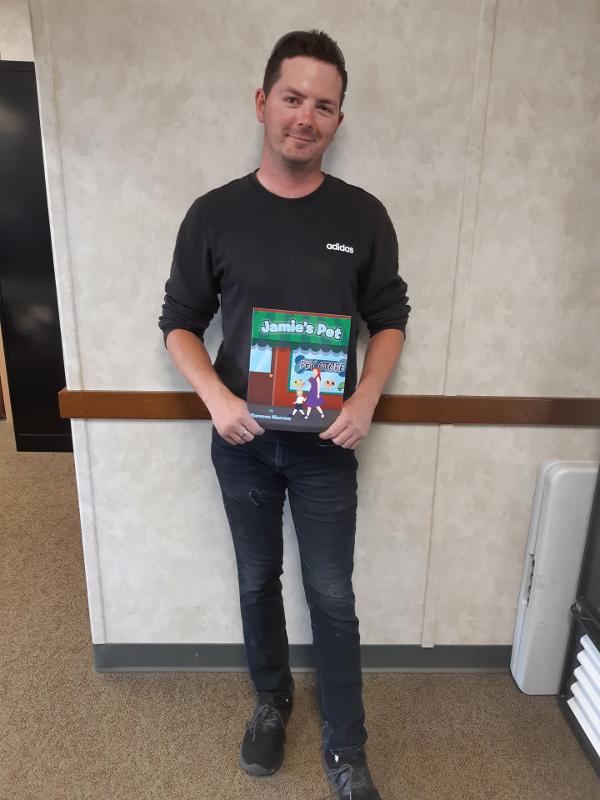 Jamie's Pet Children's Book Customer Review - 'I absolutely love children's books about dogs. My nephew also loves dogs so this book is perfect for him. Well-written book about a boy who wants a pet!' Aleksey K. - Winnipeg, MB, Canada 2020
Purchase Your Copy Here
Click on the Button!
FREE One-Minute Audiobook Sample
Narrated by Jessica Duncan
Jamie's Pet Children's Audiobook has a one-minute FREE sample for you to listen to. Sit back and relax as you test drive the audiobook sample. Jessica Duncan is the perfect narrator for Jamie's Pet because of her fun, playful, and quirky tone throughout this children's audiobook.
JAIMIES_PET_1_Minute_ (1).mp3
Jamie's Pet Children's Book Trailer Video
Published on February 20, 2019
Jamie's Pet Children's Book Trailer Video is a great way for you to view some of the pages in the book before you make that purchase. As you go through the video trailer you can hear a preppy little music tune while you read the dialogue describing the children's book contents. Each page in the children's book you will find bold illustrations and adorable pet characters. Your child will surely fall in love with this short story.
Make Sure You Like, Comment, Share, Save, Or Subscribe!
Jamie's Pet children's book was specifically written for babies, toddlers, and children up to the age of twelve-years-old. Reading to your children when they are a baby prepares them for preschool and by the time, they are a preteen your child already enjoys reading. Reading helps increase your child's vocabulary; therefore, they will enjoy school and learning becomes much easier for them. Why not, introduce Jamie's Pet a children's early learning book or incorporate the book as a children's literature reading level book for grade school children.
A must-read entertaining children's book that should be read before your child reaches the age of thirteen-years-old. You will discover attractive and bold illustrations throughout the book. This children's book has the power to hook both boys and girls where they will fall in love with the animals in this cute little pet storybook. A great read for a reluctant reader or for your young budding bookworm. This is a story you will love to read to your child.
An educational, entertaining, and fun to read original children's picture book can be found online at numerous retailers provided above. From all of the children's picture books sold online, it has been determined that Jamie's Pet illustrations and storyline are once again outstanding, receiving its second book award as the winner of Canada Book Awards 2020.
This beloved children's book is absolutely perfect for preschoolers, babysitters, daycare centers, libraries, elementary schools, pet stores, and bookstores to keep on their book shelves. This children's book is simple and easy to follow along. When children read Jamie's Pet, the book quickly becomes their new favorite children's book.
Jamie's Pet children's book is good for family reading time. You will find the book is child-friendly, family-friendly, and an age-appropriate children's book. The content within this information kid's picture book is perfect for children learning to read and learning about different types of animals for pets. The children's book is easy for kids to understand exactly what they are reading. This book will make young readers say, "ahhhh!" You want to instill good reading habits, this way reading becomes a part of their daily routine, something your children prefer to do instead of something they are forced to do.
This book has an admirable and valuable moral lesson in the story for kids of all ages. Parents and grandparents will love the book too! Jamie's Pet, a great kids' book your children will ask to read repeatedly. An excellent, enlightening children's short story for everyone.
Jamie's Pet children's book is a wonderful short story for families to include on their Family Night. Friends, neighbors, uncles, aunts, cousins, and grandparents can also join in on Family Night and enjoy taking turns and reading Jamie's Pet. The more, the merrier.
Great book for grandparents to read to their grandchild. A marvelous way for grandparents to bond with their grandchild. Watch your relationship grow. Your grandchild will remember you reading to them for the rest of their life. Now that's special!
Looking for the perfect bedtime story? This marvelous short story can also be enjoyed as a bedtime story. A perfect 10-minute short story that is great to read any kid as their bedtime story. Just the right amount of time every day to spend bonding with your child. That one-on-one time is very important to your child. It makes your child feel special.
Children love stories when their mom, dad, or grandparent read to them. Children especially love you to read to them at bedtime. But you don't have to do all the bedtime reading, every so often, let your child read to you so you can judge for yourself how their reading has progressed. A test your child doesn't know you are giving them. A fabulous way for you to connect with your child. To make your kids want to go to bed at bedtime, make sure your bedtime reading is fabulously entertaining, without getting too carried away, then your child will race you to their room. Problem solved!
Jamie's Pet is a proper book gift to present any child, shows you are interested in their reading material. Gifting this darling kids' book for their birthday present, Christmas present, Easter gift (included with their chocolates), or any other family occasion that might creep up is a wonderful idea.
Jamie's Pet children's book is comforting for kids with anxiety. This children's book about pets has a calming effect on anxious children. What child doesn't love animals? When they feel an episode coming on all they must do is start reading the book then the child forgets they are getting anxious.
Does your child need to learn English? Jamie's Pet children's book is the perfect short storybook for your child or someone you know to learn English or improve their English-speaking skills. Practice makes perfect. This children's book makes a good addition for you to use as a teaching tool that is designed to meet the needs of Adult Literacy Reading Programs.
The kids' book is beneficial in helping immigrant children and adults needing to learn how to read English and write English. Jamie's Pet is accessible to immigrants in children's audiobook and children's eBook for them to download in the comfort of their own home or purchase a copy of the children's paperback book. No matter which city or town you are from or which country you live in, you will find every child's book in English, now available online. Happy Reading Everyone!
Located at the Following Libraries
Jamie's Pet now available in American Libraries
Jamie's Pet now available in a Canadian Library
© Copyright 2019 - 2022 Ramona Morrow Books, All Rights Reserved